Artificial Intelligence (AI) has become indispensable in the industry - whether in training cooperative robots, optimizing processes or in quality assurance. The master's program Artificial Intelligence for Industrial Applications gives you deep insights into how artificial intelligence and machine learning work. It addresses current topics such as natural language processing, computer vision, data analytics, autonomous robots or speech dialog systems. Solid theoretical principles and the current state of research are taught. The program enables a practical and application-oriented education, in which you will design and prototype AI systems in practical projects in small groups. You will be taught by professors with a strong research backgrounds and lecturers from the AI field. They provide you with the necessary knowledge to be able to work in the digital working world as a Master of Science.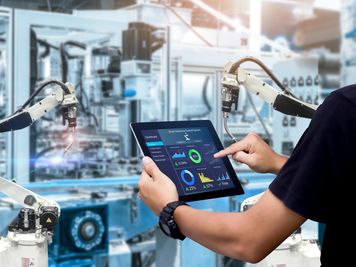 With the Master of Science for Industrial Applications degree, you have the opportunity to work in the development of innovative solutions for industrial applications. Typical fields of work are driverless transport vehicles, AI-supported image analysis in quality assurance, development of autonomous cooperative robots or voice dialog systems. In addition, the course also offers the opportunity to advance an academic career, e.g. a doctorate. Graduates opens up a wide range of opportunities and excellent prospects on the job market. They can work in various fields, including industry, the commercial sector, universities or research institutes.
Start of studies
In the master's program Artificial Intelligence for Industrial Applications it is possible to start the program in the winter and summer semester.
Application dates
You can apply for studies here from May 01 to July 15 (start for winter semester) and November 15 to January 15 (start for summer semester) each year via online application in the PRIMUSS application portal. In exceptional cases, we extend the application deadlines of individual study programs. You can find out whether you can still apply for this degree program in the application portal.
More detailed information on application and registration.
Admission requirements
The consecutive Master's program is aimed at graduates with a first relevant engineering or natural science university degree. Among others, the following courses of study are considered relevant:
computer science (such as technical computer science, applied computer science, practical computer science, media computer science, medical computer science)
electrical engineering and information technology
mechatronics and digital automation
comparable computer science courses with a technical orientation
The examination board decides on the relevance.
In addition, an aptitude test will take place online, which tests the technical aptitude in the competence fields of computer science and mathematics. Further information will be provided after admission to the test. The test will take place online during the following periods:
Application for start in winter semester: June 18 - June 25 and July 20 - July 28
Application for start in summer semester: (to be announced)