+++NEWS+++NEWS+++NEWS+++NEWS+++NEWS+++NEWS+++
Information for first-year students in the wintersemester 2023 (start of studies october 01, 2022)
Starting with the upcoming WS 2023/24, new rules for language requirements will apply: Proof of German language skills at level A2 must be submitted before you begin your studies, i.e. latest at the time of your official enrolment. For further information on this topic, please refer to access and admission requirements.
Are you interested in sustainable corporate management? Do you want to take responsibility for a sustainable economy and learn how to develop and promote business models in an international context? Do you want to be able to work internationally, lead a team and inspire people to act responsibly? Then the Master's degree program International Management & Sustainability provides you with everything you need for an international career.
Global markets are characterized by change and fierce competition. In order to be able to grow and export, not only corporations, but also medium-sized and smaller companies have long since made a name for themselves on the international stage or are planning to expand. In addition, Greta Thunberg's messages have been on everyone's lips and on all screens ever since questions of sustainable corporate development and a future-oriented sustainable economy and lifestyle have become more and more anchored in people's consciousness. Companies are therefore faced with the question of whether their business models are sustainable, ecologically as well as socially compatible and viable in the long term.
In the Master's degree program International Management & Sustainability we show you how to turn these challenges into opportunities. In addition to the important linguistic expertise, you will also acquire international knowledge and intercultural skills. The Master's programme combines current issues from the fields of International Management (including strategic management, value chains, project management) and Sustainability (including climate change, environmental economics, sustainability management and social entrepreneurship). The range of subjects is supplemented by basic knowledge of general management and corporate responsibility. In addition to business administration training, you will work on your personal development and leadership skills. Upon successful completion of your studies, you will be awarded the academic degree Master of Arts (M.A.). This will enable you to start your career as broadly trained expert with management responsibility in a global environment as well as in sustainability management or innovation management.
We inspire leadership and encourage innovation. Come to the Weiden Business School at OTH Amberg-Weiden!
The Master's programme International Management & Sustainability is a consecutive programme with an application-oriented profile. It is aimed at prospective students who have already completed a university degree in an economic, social or cultural science field.
The Master's program teaches students entrepreneurial skills as well as leadership competencies in order to work successfully and sustainably in a globally operating company. In addition, the program offers students opportunities to deepen their knowledge in the fields of international management, sustainability, general management and corporate responsibility in order to achieve their individual goals.
As a graduate of the Master's Program in International Management & Sustainability, you will be among the experts who establish and take responsibility for future-oriented business models and processes as well as sustainable value chains in the company. You are a sought-after partner for international projects and for questions dealing with the social and environmental responsibility of business. With your language skills, you are confident in moving in international terrain. Intercultural competences and leadership skills round off your profile and make you a successful manager of multi-ethnic and multicultural teams.
Your well-founded scientific and at the same time practice-oriented education opens up all fields of business administration to you, both in companies and business and environmental organisations (e.g. associations), as well as in institutions, NGO's or foundations. The subject area of sustainability also acts as an interface to numerous areas in the company. Thus, purchasing, sales, human resources, production, marketing or controlling are also open to you.
Do you want to apply for the Master's programme in International Management & Sustainability at our university? The program starts in both the summer semester and in winter semester.
Application period for the winter semester
For the winter semester starting on October 1, you can apply online from May 1 to July 15. In exceptional cases we will extend the application deadlines for individual courses of study. You can find out whether you can still apply for this programme in the applicant portal.
Application period for the summer semester
You can apply online for the summer semester from 15 November to 15 January.
Here you get more detailed information on application and registration.
Access and admission requirements
Please note: Statements about eligibility cannot be given in advance! You have to go through the application process to have your documents reviewed (online admissions portal). For a smooth process, international applicants should apply 6-8 weeks before the end of the application period if possible.
The Master's program in International Management & Sustainability is aimed at prospective students who have completed their Bachelor's or Diploma studies in a course of study considered relevant. Relevant courses of study are, in addition to business administration-oriented courses of study, in particular interdisciplinary courses of study with elements from social or cultural science courses of study (e.g. International Business, Applied Business Psychology, Digital Business, International Technology Management) as well as, technology-oriented courses with management content (e.g. Industrial Engineering, Media Informatics). However, study programs with an overwhelming focus on engineering subjects are not considered relevant. The university degree must have been completed with an overall examination performance of "good" or better (minimum of a 2.5 grade average, German grading system; for information on the German grading system, please refer to (Link under construction)). The entry and admission requirements for the Master's program as well as information on the aptitude test can be found in the study and examination regulations for the program.
In addition, a sufficient knowledge of the English language must be proven by a language certificate corresponding to level B2 according to the Common European Framework of Reference for Languages. One of the following English language tests with the specified minimum score is sufficient: TOEFL IBT - 80 / IELTS Cambridge - 6 / TOEIC - 780. Proof is not required if the university entrance qualification or university degree was obtained in English. Proof ofGerman language skills at level A2 must be submitted before you begin your studies, i.e. latest at the time of your official enrolment. This is obviously not required if your previous studies or university entrance qualification were completed in German. Accepted certificates are: Goethe-certificate, telc, ÖSD-certificate. During the master's program, German language skills must be expanded to level B1 (e.g. through German courses, internships or self-study).
As stated above, the Master's program International Management & Sustainability requires the passing of an aptitude test in the form of a written essay. Here are details about your task:
Write an essay on the below mentioned topic in the field of international management and sustainability
Language of the essay: English
Length of the essay: Minimum of 1000 words and maximum of 1500 words
Submit your essay electronically via the online admissions portal PRIMUSS
All external sources used must be indicated
An additional confirmation should testify that the essay was written personally by you
Essay topic:
Why is the topic of International Management & Sustainability of importance to you? Please share a personal experience or an issue that bothers you related to questions of international management and/or to questions of sustainability and how you deal/dealt with it. If suitable, use concepts/theoretical models from the respective fields.
The evaluation criteria of the essay are equally the quality of the content and the formal quality of the argumentation related to the structures of scientific analysis and linguistic expression.
Upload the essay and your other application documents before January 15 (application for the summer semester), or July 15 (winter semester) in the application portal of the OTH Amberg-Weiden. A positive or negative decision on admission will be made after reviewing your application documents. Please refrain from contacting the university to ask about the status quo of your application.
Nilufar Umarova - Student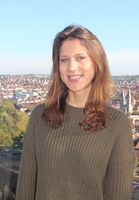 After an international bachelor's degree in business studies, I wanted a master's degree that combined my background with my interest in ethical business practices. With IMS I found the perfect fit with classes deepening key skills like strategic decision making and teaching components of fair business. From human rights, corporate compliance, and climate change, IMS covers various relevant fields and offers a steep learning curve for future professionals.
Isadora Cogo Badan - Student