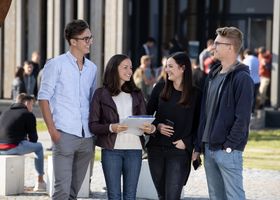 In the Bachelor's programme Digital Business you can choose between the following study programmes:
Analytics & Data Management
Chatbots, social media, music platforms, industry 4.0 - what connects all these topics? The added value from data!
In the ADM specialization, you will learn about the technological background of digital business models and acquire essential skills to independently design new digital solutions or business ideas. This not only makes you one of the most attractive candidates on the job market, but you can also realize yourself in your own digital start-up.
You can look forward to exciting study content with modern tools and methods, as well as a wide range of practical projects.
Module overview of the study programme
Mobile App Development (How to develop modern apps)
Digital Venture Development (How to develop a digital start-up)
Cognitive Technologies and Applications (How to Design Intelligent Systems)
Digital Capstone Project (How to design and implement digital projects in a team)
Application-Oriented Programming (How to practically solve problems with coding)
Digital Analytics Engineering (how to put data analysis into practice)
Digital Data Management (How to design databases and implement them with SQL)
Digital Business & Information Systems (How to Use Information Systems Successfully)