For the new study program Digital Technology and Management at the OTH in Weiden applies: small, but nice!
small study groups: we live and love the intensive cooperation between students and lecturers.
personal environment: you are not a number, but "you know each other".
lively partner network and close proximity to important regional companies: practical training and intensive company contacts, from guest lectures and excursions, to lecturers from the field, projects with and in companies, easy internship search, practical bachelor theses and excellent employment opportunities
international contacts and cooperation with partner universities, from joint modules to summer/winter schools and semesters abroad.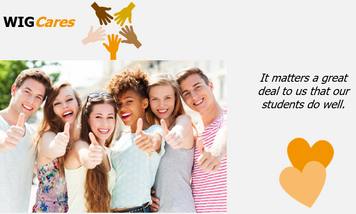 What is WIGCares?
WIGCares is a one-stop support programme in the faculty of Industrial Engineering and Healthcare aims to support Year One students through counseling, guidance, preparatory courses, on-on boarding and mentoring. A fixed team of experienced older students from all Bachelor programmes assist first and second semester students (and those interested in studying in a programme at the WIG faculty) with activities and support programmes like Rent-A-Student, Study-Buddies, informational events, study groups and mentoring to help make the sometimes challenging transition from secondary school to university an easier one.
Sound interesting?! Join our team!