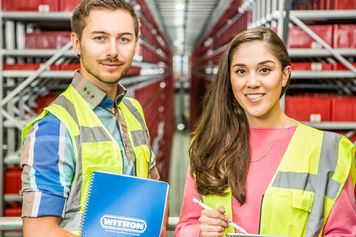 Are you interested in digital logistics, eProcurement and smart purchasing platforms? Are you interested in the design and improvement of business processes or the conception of innovative distribution strategies such as Supply Chain Management 4.0? You would like to know how to use Internet of Things and Virtual/Augmented Reality in your company? Are you fascinated by logistic facilities and systems used to transport and handle goods?
We will show you how you, as a Logistics and Supply Chain Manager, can creatively design innovative, agile processes with domestic and foreign suppliers, your colleagues in the company and customers. How you will continue to support their implementation and manage their operations. We provide you with the necessary knowledge of real and digital logistics systems and processes. You will also learn about aspects of process design and optimization and the installation of logistics IT systems. You will learn how to assess the profitability of your planning and the ongoing operation of your systems. A further important component of their studies will be how they can motivate and promote personnel as managers. You will also learn selected soft skills and competencies at your own discretion, which are equally important components of your studies.
Charlotte Schlodder - student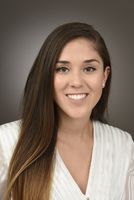 "At the OTH in Weiden you are not only a matriculation number, but a personality. As a student, I never had the feeling of being helpless in the face of my studies and their milestones. This applied not least to the personal support and close contact with the professors. It was precisely this kind of support that helped me to develop my skills, expand them and grow with my studies. You get the support you need and are encouraged to take other paths to make your studies more varied. In the lectures, not only theoretical models are taken up, but also the relation to practice is created and highlighted. During the specialisation you will have the opportunity to apply and consolidate your acquired knowledge in projects with local companies. The alternatives offered beyond that allow to educate oneself in further different fields. This gives me the chance to broaden my professional horizons later on and creates a new way of thinking that is in demand on the job market.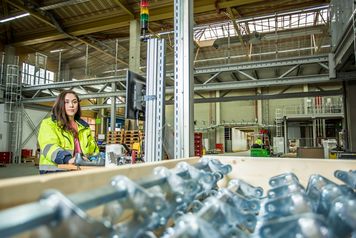 The logistics sector is one of the three most important employers in Germany and has a correspondingly large number of employees. The constantly growing globalization and internationalization of procurement channels as well as the digitalization of processes will create additional jobs here. Logistics is also a key success factor for Germany as a business location. So become part of this success story! Shape the future, work in an industry that always has exciting new tasks in store for you!
We will provide you with a broad basic knowledge in the fields of logistics, digitalization and business administration. After your studies you can choose whether you want to contribute your strengths at a manufacturer of logistics equipment, in the support of logistics software systems, in the mail order business, at production companies or in the service industry. In each of these branches of industry and in many others, logistics experts with digital competence are urgently sought. Apply today and lay the foundation for a successful career with your Bachelor of Science (B.Sc.) degree.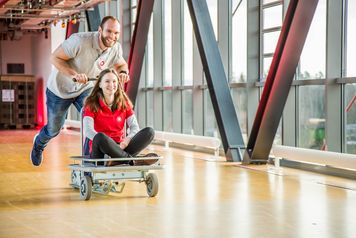 You would like to apply for the Bachelor's degree in Logistics & Digitalization at our university? The course of study starts in the summer semester and in the winter semester.
Application period for the winter semester
For the winter semester starting on October 1, you can apply online from from May 1 to July 15. In exceptional cases we will extend the application deadlines for individual courses of study. You can find out whether you can still apply for this degree programme in the applicant portal.
Application period for the summer semester
You can apply online for the summer semester from 15 November to 15 February.
In addition to pure full-time studies, there is also the possibility of combining studies at our university with regular vocational training (combined studies) within the framework of a so-called "dual study programme". Or you can combine the comprehensive theory at the university with intensive practical phases in companies (studies with in-depth practical experience).
Further information
More information on the dual study models and an introduction to vocational training is available at www.oth-professional.de.