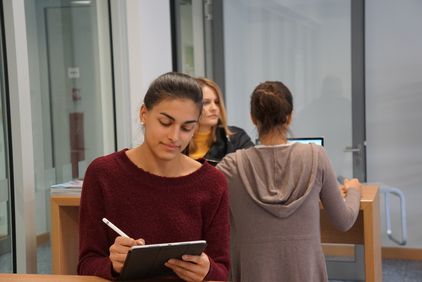 The full-time course of study normally comprises three theoretical semesters in full-time.
Your studies are modularly structured, whereby you will gain partial qualifications after completing the individual modules. If you successfully complete individual modules with an examination, you will be credited a certain number of credit points (ECTS points). The curriculum provides for the acquisition of 30 ECTS in each of the three semesters, so that your points account will count for at least 90 credit points in total upon successful completion of your master's degree.
Upon successful completion, you start your professional life with the academic degree Master od Arts (M.A.). Students who start their studies in the winter semester 2022/23 will receive the academic degree Master of Science (M.Sc.)
The first two semesters of your studies in Applied Organizational Psychology include the following modules:
Personality Psychology
Industrial and health psychology
Intercultural management and business ethics
Organizational and social psychology
Market and advertising psychology
Leadership Psychology
Management consultancy
Coaching
Mentoring
Behavioural Economics
Project-related empirical research
Diagnostic methods and test theory
In the third semester you will write your master's thesis and complete the master's seminar.
Here you can see an overview of the modules and the time schedule:
Course Catalogue and Curriculum
In the course catalogue of the current semester you will find all information about the modules offered in the master programme Applied Organizational Psychology as well as the time schedule of your studies. Among other things, you will find information on who teaches the course, what learning objectives it contains and in what order you should ideally study the modules.
The study plan presents the modules of the course of study in chronological order over the semesters. Here you can find out which lecturers hold lectures in the current semester. You will also learn which study and examination credits have to be earned.
You can download the currently valid course catalogue and the curriculum for the degree course in Applied Organizational Psychology as PDF files:
Timetable / Examination Schedule
In the timetable you will find the current lecture times of the study course Applied Organizational Psychology. It shows the lecture times for all modules in a weekly view. All timetables can also be found in our OTH-AW-App.
On the examination schedule you will find all important information about your upcoming examinations. Here you can access the current examination schedule (as soon as available) for the Master's programme in Applied Business Psychology.
Study and Examination Regulations
The course is legally regulated by the study and examination regulations, the general examination regulations of the university and the framework examination regulations for all universities of applied sciences in Bavaria. Here you will find the current study and examination regulations of the Applied Organizational Psychology course (subject to revision according to the requirements of the Ministry):