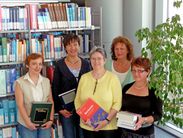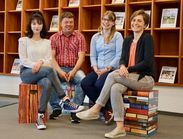 The library team is happy to take care of your concerns regarding books, e-books and databases. The counter is always manned during opening hours. During the semester break (usually 15 February - 14 March and 01 August - 30 September) the opening hours are reduced. Please also see the section Current Information.
A special service is available for university members. With an activated chip card, you have 24-hour access to your library in Amberg and Weiden. No matter whether you use the library as a place of learning or urgently need to borrow a particular book from our stock, both are available 24 hours a day.
Please ask the library team what you need to know when using the library outside opening hours. To activate your chip card, you must attend an introductory event at both locations. External users (including former students) cannot access the library outside opening hours. This service is only available to fully enrolled students at OTH Amberg-Weiden, members of the teaching staff and employees. For security and legal reasons, the library rooms are video monitored at this time.
The following services are not available outside opening hours:
Collection of reserved or ordered books
Advice from the library staff
Payment of reminder fees
Activation or issue of a library card