How does the use of the digital library work?
The library offers access to numerous literature databases, electronic journals and various e-book portals (for a list, see "Databases" below). Access authorization is checked via IP address, i.e. PCs on the OTH campus are recognized as authorized to access.
For university members, access also works outside the university network, e.g. from your home PC, by using a VPN connection to the university. Here you can choose between the VPN web portal or the VPN Forticlient. However, some portals, for example the Hanser eLibrary, work exclusively with the VPN Forticlient. Installation and configuration instructions (for various operating systems) can be found on the Computer Centre website.
For more information about our e-books (How do I find e-books? How do I get access?), you can find our e-book information handout here.
Legal provisions for the use of the digital library
The university library provides its users with electronic books (e-books) and other digital publications exclusively for personal academic use. Any distribution of the licensed content, in whole or in part - whether in digital form (e.g. electronic data carriers), by remote data transmission or in analog form (e.g. paper copies) - is not permitted. Reproduction of the licensed content or parts of the licensed content for the purpose of distribution (including via the Internet) as well as distribution (whether commercial or free of charge) is not permitted. Any translation, adaptation or other transformation of the Licensed Content or parts of the Licensed Content is prohibited. The use of robotic systems, so-called spiders and crawlers, as well as other automated downloading programs for the purpose of systematic and automatic search, indexing and retrieval of licensed content is not permitted.
General databases
Databases for economics and economic/organizational psychology
Databases for electrical engineering, computer science, mechanical engineering, environmental engineering and geoinformatics
Databases for medicine and medical technology
Patents and standards
Please note: The following search options are not suitable for professional research on the state-of-the-art.
Law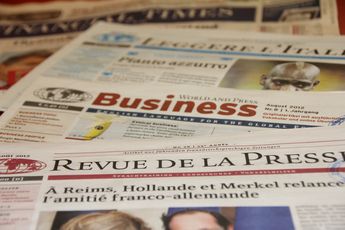 The OTH library offers you a wide range of scientific journals. You can also read the daily press (Amberger Zeitung / Der neue Tag, Süddeutsche Zeitung) with us.
Please note that single issues cannot be borrowed. Entire volumes can be borrowed for two weeks.
The service also includes online access to the newspapers Süddeutsche Zeitung (german) and The New York Times. University members can access them from anywhere via VPN Forticlient, while external users can read them via a computer in the libraries.
You are looking for a specific journal and want to know if it is available at OTH? Search for the journal title in the OPAC and click on individual volumes to see which volumes of a printed journal are available.
For e-journals, use our databases and the Electronic Journals Library (EZB).
For articles whose journal the OTH library does not hold, interlibrary loan of copies is possible in many cases. You can find all further information on this in our information leaflet about ordering articles (with step-by-step instructions).
If you have any questions, please feel free to ask at the counter.