PartnerCircle of the OTH Amberg-Weiden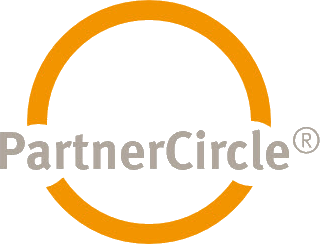 At the East Bavarian Technical University Amberg-Weiden, there is no one-sided lecture hall sponsoring, which is becoming increasingly popular in the higher education landscape. Rather, the OTH's university region focuses on an efficient partnership between the university and companies to promote the practice-oriented education of students and optimal networking between the university and the regional economy. For this reason, outstanding companies belong to the exclusive partner circle of the OTH Amberg-Weiden. The PartnerCircle therefore only grows to a size that guarantees excellent support from the university. For this reason, the OTH locations in Weiden and Amberg can only accept a limited number of partners.
An unmistakable presence of the selected 31 business enterprises at the university and diverse cooperations of the companies with the OTH have developed in a very short time (foundation of the PartnerCircle in 2003). The students benefit from valuable practical know-how, the companies from the conceptual and operational help of their professor mentor, other professors and the students.
Partners in Weiden are: BAM GmbH (Weiden), BHS Corrugated GmbH (Weiherhammer), Gerresheimer Regensburg GmbH (Regensburg, Pfreimd, Wackersdorf), Hamm AG (Tirschenreuth), HOHPE GmbH (Schirmitz), HT Labor und Hospitaltechnik GmbH (Heideck), IGZ (Falkenberg), Lippert GmbH & Co. KG (Pressath), Nachtmann GmbH (Neustadt, Weiden), pro aurum GmbH (München), Rödl & Partner GmbH (Nürnberg), Scherdel GmbH (Marktredwitz), up2parts GmbH (Weiden), Volksbank Raiffeisenbank Nordoberpfalz eG (Weiden), Witron Logistik+Informatik GmbH (Parkstein), Witt GmbH (Weiden) und die TELEPAXX Medical Data GmbH (Büchenbach).
Partners in Amberg are: Altium Software GmbH (München, Karlsruhe), Baumann GmbH (Amberg), Constantia Pirk GmbH (Pirk), Deprag Schulz GmbH (Amberg), Epoxonic GmbH (Landsham/Pliening), Grammer AG (Amberg), Huber Technology SE (Berching), Krones AG (Neutraubling), Maxhütte Rohrwerk GmbH (Sulzbach-Rosenberg), Nexans Autoelectric GmbH (Floß), Novem GmbH (Vorbach), Siemens AG (Amberg), Sparkasse Amberg-Sulzbach (Amberg), PIA Automation Amberg GmbH (Amberg) und die Stadtwerke Amberg GmbH (Amberg), Herding GmbH Filtertechnik (Amberg).
The vision of the partnership model is: Strong partners and the OTH can use their skills and ideas to create new horizons that go far beyond the possibilities of the individual, for the benefit of all partners, employees, students, graduates, i.e. a prime example of cooperative creativity and competence.
We are pleased about your interest in our PartnerCircle. Please feel free to contact us!
Dr.-Ing. Veronika Wiesmet
Research Funding
Institut für Angewandte Forschung IAF
Ostbayerische Technische Hochschule (OTH) Amberg-Weiden
Kaiser-Wilhem-Ring 23
D-92224 Amberg
Tel: 09621/482-3942
Mail: v.wiesmet
@
oth-aw
.
de