Collaborative Research Project MuM-Video: Explainer videos as an informal resource for subject- and language-integrated mathematics teaching - Three-level design research
Project content and goals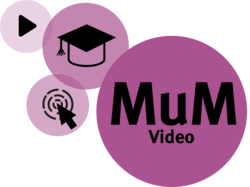 Nowadays, pupils can find numerous explanatory videos on the World Wide Web on a wide variety of school subjects. These sometimes offer useful explanatory approaches and can thus supplement subject lessons as an informal learning resource. However, only a few videos meet basic media, language and subject didactic quality criteria.
The joint project MuM-Video aims to demonstrate the potential of high-quality, interactive explanatory videos and to make them usable for subject- and language-integrated teaching as well as for the professionalisation of teachers.
The project will be implemented on three levels: At the media level, interactive, subject- and language-didactically optimised learning videos for secondary mathematics teaching are developed and researched. At the teaching level, concepts for integrating such videos into subject lessons will be developed. At the training level, needs for corresponding teacher training are identified and training concepts for the targeted use of explanatory videos in the classroom are developed.
Do you have any questions, suggestions or would you like to contact us for any other reason? Then contact us!
Contact:Prof. Dr. paed. Dipl.-Math. Mike Altieri
Phone: +49 (9621) 482-3641
Fax: +49 (9621) 482-4641
E-mail: m.altieri
@
oth-aw
.
de
Funding provider:
Federal Ministry of Education and Research (Bundesministerium für Bildung und Forschung; BMBF),
Priority Programme Digitalisation in Education: Designing Educational Processes (Schwerpunktprogramm Digitalisierung im Bildungsbereich: Gestaltung von Bildungsprozessen)

Funding amount:
1.440.000 €
Project duration:
01.10.2020 – 30.09.2023
Project management Amberg:
Prof. Dr. paed. Dipl.-Math. Mike Altieri
East Bavarian University of Technology Amberg-Weiden (Ostbayerische Technische Hochschule Amberg-Weiden)
Network partner:
Dortmund University of Technology, Institute for Development and Research in Mathematics Education (Technische Universität Dortmund, Institut für Entwicklung und Erforschung des Mathematikunterrichts; IEEM),
Prof. Dr. Susanne Prediger
Cooperation partners:
Associated Partner:
Supported by: